¥Item¥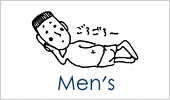 MSPEC Men's 3D Underwear
JP.PAT.No.5120755

EBoxerbriefs
EBoxers
EKnit Boxers
EBriefs
ELowrise Boxerbriefs
EBoxerbriefs Long
EMomohiki (Spats)
ETurned Boxerbriefs
ELong Boxers
ESilk Boxerbriefs
EBandage Stretch Gauze Hem
EBikini
EUrine-absorbing Boxerbriefs
E3D Urine-absorbing Pad


Payment Method
¡PayPal




We accept payment by PayPal.




œWe not charge oversea customers with Japan's consumption tax.




œTotal bill amount is : Total price of items + shipping fee.




œWe will ship after the payment is settled.




œYou will receive an e-mail regarding the payment via PayPal.


@

Please click the link to the PayPal website on the e-mail,


@

and settle the payment within 7 days.




œPlease note that if payment through PayPal cannot be confirmed within 7 days from the order


@

confirmation e-mail date, order will be cancelled automatically.




œAn extra fee will add the amount to the occasion of transfer by the customer burden.




œAny return or refund will not be accepted for overseas delivery


@

once order confirmation e-mail is sent out.
Customs Clearances and Duties
Import duties and taxes may be applied upon customs clearance into your country.


Please pay such costs directly to the delivery agents or the customs office upon delivery.
For details, please contact the customs office of your country.
Shipping / Delivery
¡@About delivery & shipping fees
1) After order, soon you will receive an e-mail with the correct shipping fees and total price from our shop.
@Please check the total amount due.
2) Your ordered items will be shipped out only after your payment is received.
¡Delivery Time
The delivery time is estimated to be approximately 7 business days after shipment.
Please understand there will be delays depending upon customs clearance and other various conditions of transportation.
¡Delivery Method
We ship goods by the Japan post.
1. EMS
After shipment is made, you will receive a tracking number by e-mail
EMS Tracking -

http://www.post.japanpost.jp/int/index_en.html
¡Shipping Fees
™All price are listed in Japanese Yen
1. EMS
The following chart contains EMS prices based on weight and destination to certain countrie
EMS fee was revised on June 1st, 2016.

Zone
First Zone
Second Zone
Third Zone
Weight
Asia
Oceania, North America, Central America and the Middle East
Europe
South America and Africa
Up to 500g
1,400
2,000
2,200
2,400
Up to 600g
1,540
2,180
2,400
2,740
Up to 700g
1,680
2,360
2,600
3,080
Up to 800g
1,820
2,540
2,800
3,420
Up to 900g
1,960
2,720
3,000
3,760
Up to 1.0kg
2,100
2,900
3,200
4,100
Up to 1.25kg
2,400
3,300
3,650
4,900
Up to 1.5kg
2,700
3,700
4,100
5,700
Up to 1.75kg
3,000
4,100
4,550
6,500
Up to 2.0kg
3,300
4,500
5,000
7,300
Up to 2.5kg
3,800
5,200
5,800
8,800
Up to 3.0kg
4,300
5,900
6,600
10,300
Up to 3.5kg
4,800
6,600
7,400
11,800
Up to 4.0kg
5,300
7,300
8,200
13,300
Up to 4.5kg
5,800
8,000
9,000
14,800
Up to 5.0kg
6,300
8,700
9,800
16,300
* Please check the link provided below for more.
http://www.post.japanpost.jp/cgi-charge/index.php?lang=_en
Cancelation Policy
Please understand that we will not accept cancellation in any case for international orders.
Return and Refund Policy
Any return or refund will not be accepted once order confirmation e-mail is sent out.
Consumption Tax
We will not charge customers with Japan's consumption tax.

However, consumption tax is included in the automatic reply e-mail
(the e-mail sent immediately after your order completion),
therefore, we will be sending you a g

Thank You

h e-mail mentioning the
total order amount with the consumption tax excluded.
Privacy Policy
Regarding our customersf personal information (address, name, e-mail address, etc.), we are taking the utmost care. Your personal information may be used for, and be used only for conducting our business.
Matters pertaining to personal information are controlled within the confines of the law and unless required by government to disclose such information, personal information shall not be disclosed to third parties without prior written consent.